Royal Botanic Gardens--page 5 of 5 pages (in chronological order)


Works represented include the following

Chokushi-Mon, 1910
Japanese Landscape
King William's Temple (Sir Jeffry Wyatville, 1837)
Pagoda (Chambers, 1761)
Palm House--exterior ; Palm House--interior (Decimus Burton, 1844-48)
Ruined Arch (Chambers, 1759)
Temple of Bellona (Chambers, 1760)
Temperate House (Decimus Burton, 1862-98)


King William's Temple
Sir Jeffry Wyatville
1910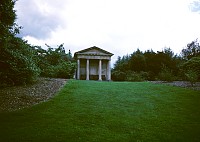 This small Doric temple--with four Tuscan columns and the frieze with indecorated metopes contains inside iron plaques commemorating British military victories from Minden to Waterloo.
Chokushi-Mon--The Japanese Gateway
1910

Chokushi-Mon (the Gateway of the Imperial Messenger) is a replica at four-fifths size of the Karamon of Nishi Hongan-ji in Kyoto, the imperial capital of ancient Japan. Built in 1910 for the Japan-British Exhibition in London, it was moved to Kew Gardens a year later. According to the official Kew Gardens website, "Chokushi-Mon is the finest example of a traditional Japanese building in Europe, built in the architectural style of the Momoyama (or Japanese rococo) period in the late 16th century, a time of peace, prosperity and flowering creativity. Typically expressive, Chokushi-Mon shows finely carved woodwork depicting flowers and animals, with the most intricate panels portraying an ancient Chinese legend about the devotion of a pupil to his master" (website).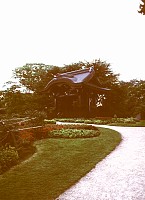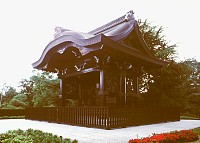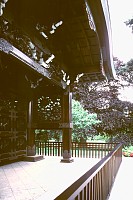 Japanese Garden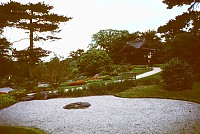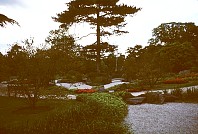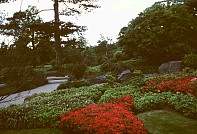 Return to page 1.

Click here to return to index of art historical sites.



Click here to return to index of artists and architects.



Click here to return to chronological index.



Click here to see the home page of Bluffton University.





© 2004 Mary Ann Sullivan. I have photographed (on site), scanned, and manipulated all the images on these pages. Please feel free to use them for personal or educational purposes. They are not available for commercial purposes.