Temperate House (Decimus Burton, 1862-98)
Works by Sir William Chambers at Kew Gardens
"Brought up in Sweden by Scottish parents, trained in France, a regular visitor to China and India, Sir William Chambers (1726-1796) was by far the most internationally minded British architect of his time. Settling in London in 1755, Chambers became a favorite of King George III and went on to hold the highest official architectural offices and to build public and private commissions throughout the British Isles. Because of his eclectic neo-Palladian style, seminal Treatise on Civil Architecture (1759), and longterm influence through his numerous pupils, Chambers was regarded as one of the two greatest architects of late eighteenth-century Britain, sharing the honor with the more prolific Robert Adam" (Yale Press website). Sir William Chambers designed more than 25 works for the Royal Gardens, although many no longer exist. Those still standing are the ruined arch, the Orangery, the Pagoda, and the Temples of Bellona, Arethusa, and Aeolus. (See Somerset House for an example of a large civic building designed by Chambers.)
Ruined Arch
Sir William Chambers
1859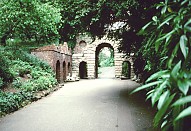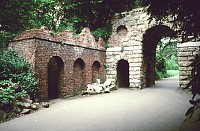 The ruined arch is a conceit, a mock ruin, designed at a time when such artificial structures were popular in fashionable gardens, that is if a real ruin couldn't be provided.
Right: the pedimented opposite side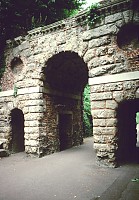 Temple of Bellona
Sir William Chambers
1860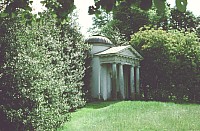 The Temple of Bellona
Eighteenth and nineteenth century English gardens had not only artificial ruins, but often had elaborate terraces, topiary, mazes, temples, fountains, and statuary. (For an American example in this tradition see the late nineteenth century Biltmore Estate.) This building is named after the Roman goddess of war and companion god Mars. It was built in 1860 for a different site and later moved here. The small Doric temple with a four-column facade has plaques inside honoring those who served in the Seven Year's War (1756-64).
Pagoda
Sir William Chambers
1861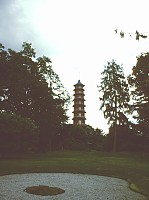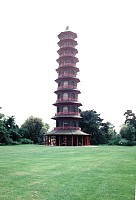 Chambers knew the fads. Just as artificial ruins were popular in landscaping, so too was the fashion for Chinese designs in gardens in the mid 18th century. His pagoda is 10 stories tall (about 165 feet) and octagonally shaped. It tapers gently toward the top--with each floor being slightly less high and slightly narrower in diameter as it rises to the top.
The pagoda is constructed of bricks that were strong enough to withstand nearby bombing during World War II. Although it has been restored several times, the original colors and the decorative dragons (80 i n all covered in glass) have not been replaced.