Royal Botanic Gardens--page 4 of 5 pages (in chronological order)


Works represented include the following

Chokushi-Mon, 1910
Japanese Landscape
King William's Temple (Sir Jeffry Wyatville, 1837)
Pagoda (Chambers, 1761)
Palm House--exterior ; Palm House--interior (Decimus Burton, 1844-48)
Ruined Arch (Chambers, 1759)
Temple of Bellona (Chambers, 1760)
Temperate House (Decimus Burton, 1862-98)


Temperate House
Decimus Burton, in collaboration with ironfounder Richard Turner
1862-98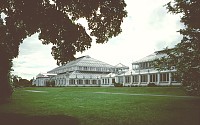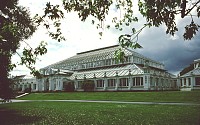 Larger than the Palm House, designed about 15 years earlier, this glass house has a pitched roof and is less open and airy.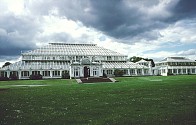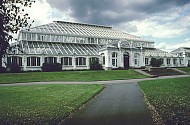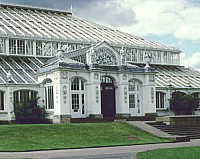 Monumental entrance
The heavey piers have statues crowning them at the entrance and large urns along the front.
Continue to page 5.

Click here to return to index of art historical sites.



Click here to return to index of artists and architects.



Click here to return to chronological index.



Click here to see the home page of Bluffton University.





© 2004 Mary Ann Sullivan. I have photographed (on site), scanned, and manipulated all the images on these pages. Please feel free to use them for personal or educational purposes. They are not available for commercial purposes.