Royal Botanic Gardens, Kew--page 1 of 5 pages (in chronological order)


Works represented include the following

Chokushi-Mon, 1910
Japanese Landscape
King William's Temple (Sir Jeffry Wyatville, 1837)
Pagoda (Chambers, 1761)
Palm House--exterior ; Palm House--interior (Decimus Burton, 1844-48)
Ruined Arch (Chambers, 1759)
Temple of Bellona (Chambers, 1760)
Temperate House (Decimus Burton, 1862-98)


Kew Gardens, one of the most spectacular of all public gardens, now occupy about 300 acres. The Gardens contain botanical specimens collected over 200 years. A number of different architects and landscapers have designed buildings and laid out vistas and designed lakes. The Gardens have research laboratories and separate greenhouses for orchids, cacti, alpine plants, ferns, etc. The Palm House (below) supposedly contains every variety of palm. The Marianne North Gallery displays the botanical paintings of the artist who recorded the species during her world wide travels. The Gardens are located on the south bank of the Thames River between Richmond and Kew in the suburbs of south-west London.


Palm House--exterior
Decimus Burton, in collaboration with ironfounder Richard Turner
1844-48

The structure is buildt of iron and curved glass, with the use of a deck beam used in ship building, which could span greater areas. This building predates the Crystal Palace by 3 years. The building has been restored a number of times, most recently in 1985-88 when stainless steel components were substituted for the original cast iron.
Views of the Palm House from the pond--with two Chinese guardian lions (center)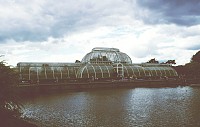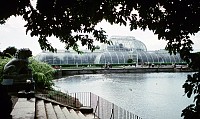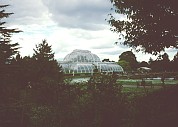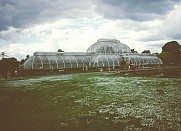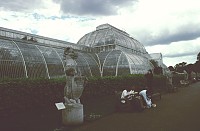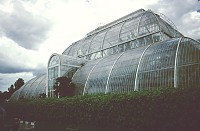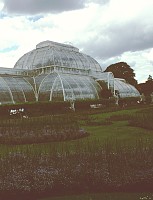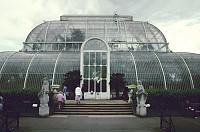 Entrance
The Queen's Beasts
The stone figures of heraldic animals were designed by James Woodford for the Queen's coronation in 1953 and later donated to the Gardens.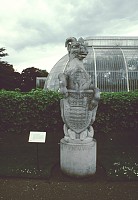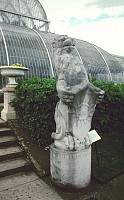 Continue to page 2--interior of Palm House

Click here to return to index of art historical sites.



Click here to return to index of artists and architects.



Click here to return to chronological index.



Click here to see the home page of Bluffton University.





© 2004 Mary Ann Sullivan. I have photographed (on site), scanned, and manipulated all the images on these pages. Please feel free to use them for personal or educational purposes. They are not available for commercial purposes.