Church of the Virgin of the Soledad--page 1 (of four pages)
Work began 1582; consecrated 1682 (or 1690?)



page 1: front facade and center details
page2: sculptural details, left side of front facade
page 3: sculptural details, right side of front facade
page 4: views of side exterior and portal and views of the interior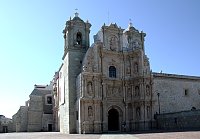 Facade facing east--"retablo-facade" designed by Oaxacan architect and sculptor, Tomás de Sigüenza
Wings spread out and flank the recessed center bay. The curved top and construction in rows and niches resembles the carved wooden retablos in Mexican churches, thus the term "retablo-facade." This facade has strong horizontal and vertical divisions with engaged columns and heavy entablatures demarcating the niches for sculpture. The widest section in the recessed center with the portal and the choir window has two reliefs relating to events in Mary's life (See details below) whereas the niches contain free-standing life-sized statues of saints, martyrs, apostles and others. The columns follow classical precedent with those in the first register being simple Doric (though fluted), in the second, Ionic, and in the topmost register, Corinthian. The columns on the second register, however, are examples of "tritostyle" columns since the lower third is decorated; in addition, the volutes on the capitals are disproportionately large. The columns in the top register have elaborate spiral carved shafts as well. The columns on the bottom register are on high plinths, probably to account for the height of the portal.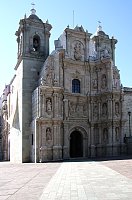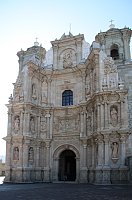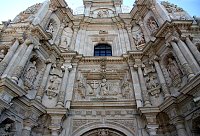 The central relief with the Virgin of Solitude at the foot of the cross
This relief, with an exaggerated wide frame features the grief-stricken Virgin, kneeling at the foot of the cross, a cross which is much too small for the size of her body.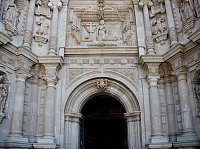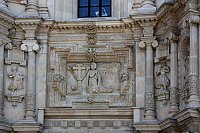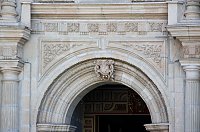 The top-most relief: Mary of the Immaculate Conception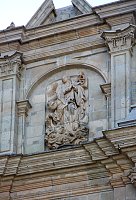 Continue to page 2.

Works consulted or quoted:
Richard D. Perry. Exploring Colonial Oaxaca. The Art and Architecture. Santa Barbara, CA: Espada Press, 2006.







Go to the Mexico Index.



Click here to return to index of art historical sites.



Click here to return to index of artists and architects.



Click here to return to chronological index.



Click here to see the home page of Bluffton University.





© 2009 Mary Ann Sullivan. I have photographed (on site), scanned, and manipulated all the images on these pages. Please feel free to use them for personal or educational purposes. They are not available for commercial purposes.