Archaeological site of Mitla--page 1 (of four pages)
600-1250 CE



See the map.
page 1--Church Group

page 2--Church Group

page 3--Palace of the Columns

page 4--Palace of the Columns


Once Monte Albán lost its importance as a population center in Oaxaca, other sites, like Mitla, became prominent in the nearby valleys, especially to the south. The large elegant palaces in Mitla with spacious courtyards and beautiful geometric mosaics were constructed between 600-1250 CE, with the climax of development in 1250. Andrew Coe explains that although Mitla has not been thoroughly excavated, it is known that Mitla's population was in the hundreds by 200 BCE and by 1250 CE it was about 10,000 with impressive building complexes known now as the Church Group, Column Group, Adobe Group and Arroyo Group (219-220). He adds that during this time period Mitla was the "Vatican of the Zapotecs" and was a pilgrimage destination, with the Column Group as the home of the high priest. Scholars debate whether the region's rulers were Mixtec or Zapotec, with many concluding that they were Zapotec with some Mixtec influence.



The Church Group
This group is comprised of three patios with surrounding rooms, although the southernmost patio is largely taken up by the colonial church, built from some of the stones from the pre-Columbian site. These two patios have various stone mosaic designs, as elaborate and note-worthy as those decorating the Nunnery at Uxmal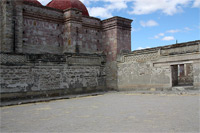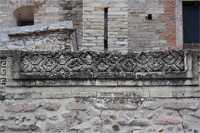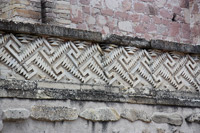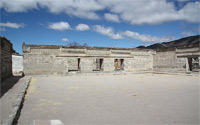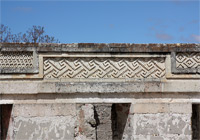 Courtyard with ornate step-and-fret patterns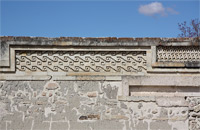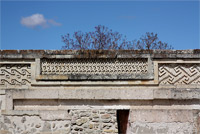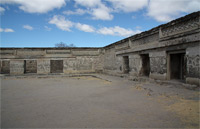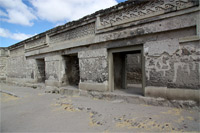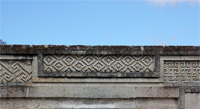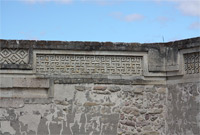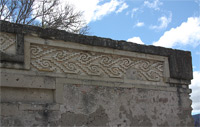 Works consulted or quoted:
Andrew Coe. Archaeological Mexico: A Traveler's Guide to Ancient Cities and Sacred Sites. Emeryville, CA: Avalon Travel Publishing, 2001.
Michael D. Coe and Rex Koontz. Mexico: From the Olmecs to the Aztecs. Fifth Edition. London: Thames & Hudson, 2002.
Mary Ellen Miller. The Art of Mesoamerica: From Olmec to Aztec. Third Edition. London: Thames and Hudson, 2001.

Continue to page 2.







Go to the Mexico Index.



Click here to return to index of art historical sites.



Click here to return to index of artists and architects.



Click here to return to chronological index.



Click here to see the home page of Bluffton University.





© 2009 Mary Ann Sullivan. I have photographed (on site), scanned, and manipulated all the images on these pages. Please feel free to use them for personal or educational purposes. They are not available for commercial purposes.