Santo Domingo--page 1 (of four pages)
16th and 17th centuries



page 1: front facade and details
page2: Rosary Chapel exterior and cloister
page 3: interior
page 4: Rosary Chapel
This church and convent was one of many founded in Mexico by the Dominican friars who came to convert the Indians. It was built between the 16th and 17th centuries and functioned as a convent from 1608 to 1857 and as the mother house of the Dominicans in Oaxaca. Closed from 1866 to 1902, it was looted and much of the interior was destroyed when the church was used as an army barrack. In 1938 it was given back to the Dominicans and since then the church has been renovated while most of the large convent has been transformed to an outstanding museum by INAH as the Regional Museum of Oaxaca.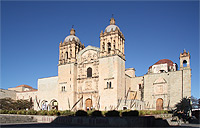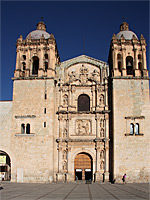 Facade facing west
The church sits on an elevated terraced plaza. The tall narrow front is called a "retablo facade" because it resembles a large compartmented altarpiece (retablo)--the kind with paintings and sculpture in the divisions. This kind of facade set the pattern for Baroque colonial churches in the city.
The top two registers
Fluted Corinthian columns divide the three bays of the front and horizontal divisions are indicated by sculpted friezes. The central bay ends in a broken pediment within the larger pediment of the whole facade. The sculpted gable, a feature of Baroque Oaxacan architecture, contains figures representing the three theological virtues: on the left, Faith holding a chalice and cross, on the right Hope with a balance, and at the top Charity. Beneath the feet of Charity is the emblem of the Dominican order.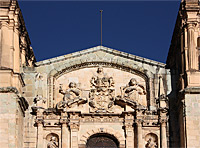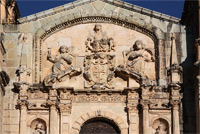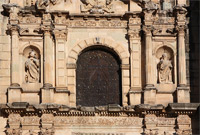 The second register
The central relief, with the "eared frame" (a common feature of the Oaxacan style), depicts St. Dominic and St. Hippolytus the Martyr holding up the church. This dedicatory image, with Hippolytus dressed as a Roman and with a plumed helmet at his feet, is a way of symbolizing the Dominican province of San Hipóde Oaxaca, established in 1592.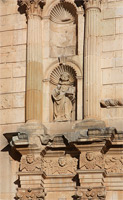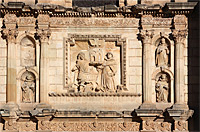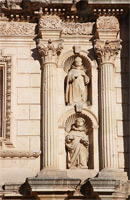 The large main door flanked by four niches with statues of two Dominican saints and St. Peter and St. Paul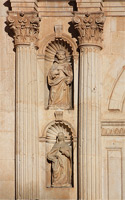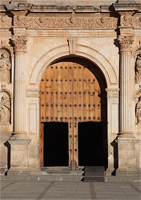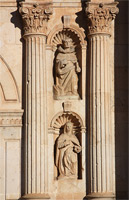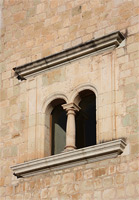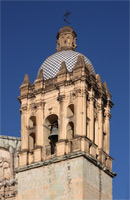 Belltower windows and detail of tower
Twin bell towers frame the facade. The pilasters at the top terminate in points and the dome has patterned tiles.



Continue to page 2.

Works consulted or quoted:
Richard D. Perry. Exploring Colonial Oaxaca. The Art and Architecture. Santa Barbara, CA: Espada Press, 2006.







Go to the Mexico Index.



Click here to return to index of art historical sites.



Click here to return to index of artists and architects.



Click here to return to chronological index.



Click here to see the home page of Bluffton University.





© 2009 Mary Ann Sullivan. I have photographed (on site), scanned, and manipulated all the images on these pages. Please feel free to use them for personal or educational purposes. They are not available for commercial purposes.