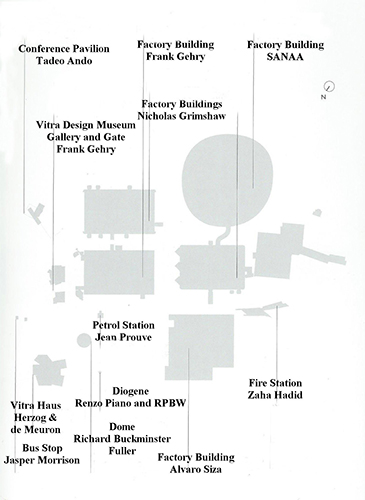 Plan adapted from that in the guide and introduction produced by the Vitra Campus (cited below)
(Click for a larger view)

The Vitra Campus is a very exciting location for anyone interested in modern architecture. It would not have been that way initially--although it might have provided a unified corporate identity. After a devastating fire in 1981, Rolf Fehlbaum, the company manager and visionary, planned a new campus, designed by Nicolas Grimshaw, known for rather elegant high tech buildings. However, after the first two factory buildings by Grimshaw and his master plan, the program changed. Fehlbaum met Frank Gehry and the plan evolved to become a diverse campus with various architectural styles by leading world architects. Today, just as VitraHaus showcases some of the best furniture and home design, the campus itself is a showcase for some of the best of modern architecture.

One thinks of Mies' university campus at IIT when defining a unified vision. Perhaps one thinks of Columbus Indiana when envisioning a diverse locale with buildings of all types, more usually designed by architects early in their career. At the Vitra Campus, there are three buildings by architects who built for the first time in Europe: Frank Gehry, Zaha Hadid, and Tadeo Ando. On the campus, there are notable architects, including seven Pritzker laureates--the Pritzker prize being the Nobel of architecture. It is simply breath-taking to see this diverse collection of superb buildings in a variety of styles--from high tech to minimalism to deconstructivism and in diverse materials. Attention has also been paid to landscaping so the serene pastoral area contributes to the showcasing of architecture.

An additional note. In nearby Basel Switzerland, there is a competing campus, that of Novartis, the Pharmaceutical giant, with buildings by Gehry, SANAA, Fumihiko Maki, Tadeo Ando, David Chipperfield, Rafael Moneo, among others. However, unlike The Vitra company, which shares its vision with now more than 400,000 visitors annually, the Novartis campus is open to guided tours only one day a month and then photography is not allowed. (After I visit a place, I see new things as I work on my photographs.) Gated communities and elitist mentalities are not my favorites. I regret the fact that my visit to Basel could not include seeing yet another remarkable corporate campus.