Introduction to the archaeological ruins of El Tajín, Veracruz
This site in northern Veracruz, southwest of Papantla, was occupied by about 100 C.E. although the extensive building program began from 300 to 600. It reached its height between 900 and 1100 but by about 1150 the city had collapsed and been abandoned. Today Totanacs inhabit this area but it is uncertain whether they were the builders of this large site. According to Michael D. Coe and Koontz, "the site derives its name from the belief of the modern Totonacs that twelve old men called Tajín live in the ruins and are lords of the thunderstorm (and therefore the equivalent of the Rain God)" (139). The Veracruz coast land was a verdant area, even in prehispanic times, and the area of this city and its subsidiary villages was quite extensive (several thousand acres total) with a population in the tens of thousands, a degree of over-population and probable environmental degradation which led to its downfall.

The culture is notable for its obsession with the ball game, evidenced by the number of ballcourts (no fewer than 17), and it is speculated that it was the center for these ceremonial games (a sort of mesoamerican Olympia!). Some of these ballcourts are also rich in sculptural (relief) decoration. Miller states that "El Tajín seems also to have been a major center for the collection of natural rubber, and perhaps the solid black rubber balls with which the game was played were made there" (93).

Although the site was discovered in the late 18th century and remarkable lithographs by Karl Nebel were published in the 19th century (see here), and excavation and mapping continued throughout much of the 20th century, exploration of this site and related outposts is ongoing yet today. And because the earth in the ceremonial center was used for fill elsewhere, thus destroying useful stratigraphy, scholars still find the chronology murky.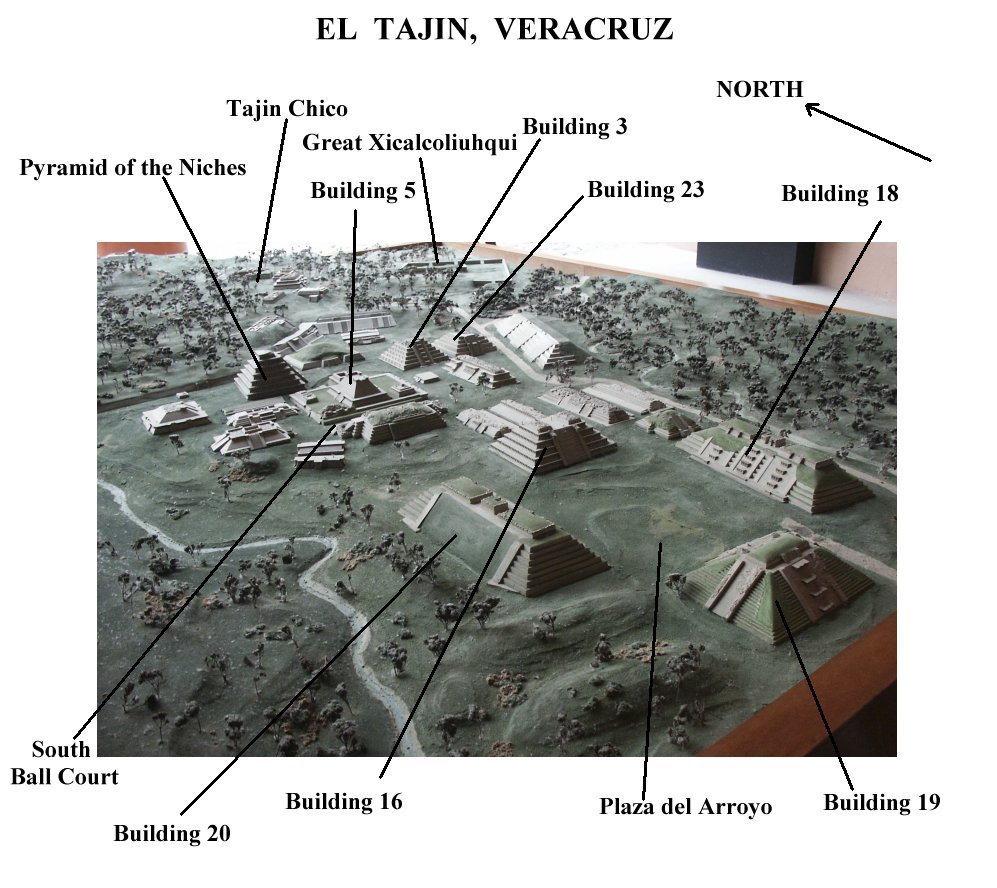 Index to the Images of the archaeological ruins of El Tajín
78 images

Works consulted or quoted:
Andrew Coe. Archaeological Mexico. Emeryville, CA: Avalon Travel Publishing, 2001.
Michael D. Coe and Rex Koontz. Mexico: From the Olmecs to the Aztecs. Fifth Edition. London: Thames & Hudson, 2002.
Mary Ellen Miller. The Art of Mesoamerica: From Olmec to Aztec. Third Edition. London: Thames and Hudson, 2001.




Go to the Mexico Index.


Click here to return to index of art historical sites.



Click here to return to index of artists and architects.



Click here to return to chronological index.




Click here to see the home page of Bluffton College.





© 2009 Mary Ann Sullivan. I have photographed (on site), scanned, and manipulated all the images on these pages. Please feel free to use them for personal or educational purposes. They are not available for commercial purposes.