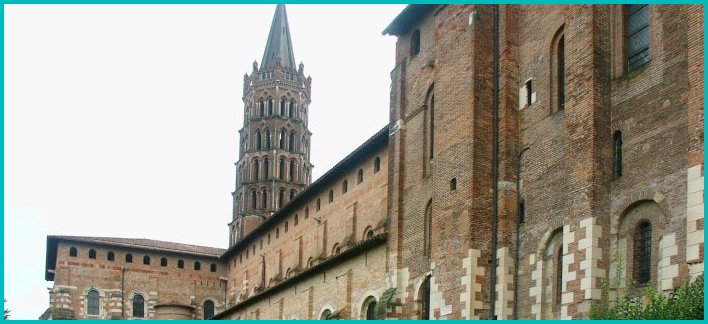 UNDER CONSTRUCTION--views of the interior will be added later.
Introduction to Saint-Sernin, Toulouse, France
Saint Saturnin or Sernin, the first bishop of Toulouse, was martyred in 250 C.E. The victim of a popular pagan uprising, he was killed when pagan priests tied his feet to a bull so that he was dragged until dead. His body was secretly buried and eventually he became a cult figure with a church to honor him built in the location of today's basilica. This church was on the via Tolosana, the pilgrimage route from Arles to Santiago de Compostela, but it became too small to accommodate the throngs of pilgrims. Under the leadership of Canon Raymond Gayrard, a new basilica was begun about 1060. By 1096, its transept and chevet were finished and the Pope Urban II consecrated the as yet unfinished church. By 1118 much of the work on the nave and double side aisles had been done. The church is a typical example of Romanesque architecture as well as a striking example of a pilgrimage church. It is very large and its interior plan made it possible to direct traffic. With double aisles and with an aisled transept and an ambulatory surrounding the apse, pilgrims could make the circuit around the church and were able to stop for meditation and prayer at the apsidal chapels off the transept and the radiating chapels off the choir.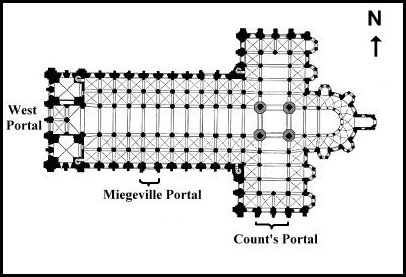 Index to Images of Saint-Sernin, Toulouse, France
(89 images of the exterior; many more will be added of the interior--nave, choir, paintings, sculptural reliefs in choir, and crypt)
All of the images were photographed in 2007.



Works Consulted or Quoted:
Quitterie and Daniel Cazes. Visiting Saint-Sernin's Basilica. SUD-OUEST, 1994 [Official Guide.]
M. F. Hearn. Romanesque Sculpture: The Revival of Monumental Stone Sculpture in the Eleventh and Twelfth Centuries. Ithaca, NY: Cornell UP, 1981.






Click here to return to index of art historical sites.



Click here to return to index of artists and architects.



Click here to return to chronological index.




Click here to see the home page of Bluffton College.





© 2007 Mary Ann Sullivan. I have photographed (on site), scanned, and manipulated all the images on these pages. Please feel free to use them for personal or educational purposes. They are not available for commercial purposes.