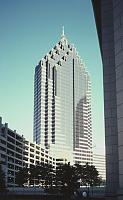 Thompson, Ventulett, and Stainback and Associates, an Atlanta firm, has been designing important buildings for more than 30 years. See the Index for other works on this site by this firm.

Left: The 38-story Promenade Two is clad in rose-colored glass and topped with a step pyramid with a steel spire.

Right: The post-modern Campanile is twenty stories high.