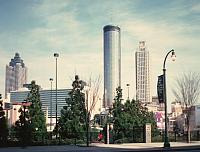 Distant view of three skyscrapers with a distinct skyline identity

left: One Peachtree Center; center: Westin Peachtree Plaza Hotel--both by Portman; right: One-Ninety-One Peachtree Tower by Johnson/Burgee
The seventy-story cylindrical hotel, clad in reflective glass, has glass-enclosed elevator shafts running up the exterior of the building. One of, if not the tallest hotel in the United States, it has spectacular interior spaces like other Portman skyscrapers. (See the Index and especially Renaissance Center in Detroit.